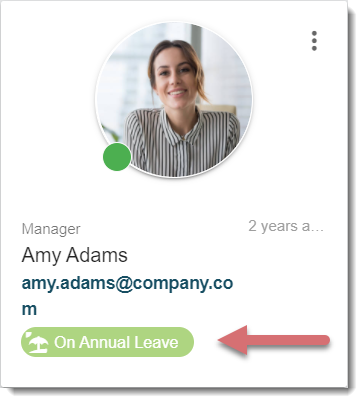 Chips are small blocks of color that sit within your item to illustrate an action. For example, you might include a chip on a leave request to illustrate whether it's a paid leave type or not. It's good practice to use chips to highlight exceptions rather than norms. For a leave type, it would be more likely to have a chip to represent 'unpaid' rather than 'paid' as 'unpaid is less usual.
If you selected to display a list of the tasks linked by the foreign key to the model, you won't see these options. Instead, the chip shows when the task is due automatically, for example, today or overdue.
Procedure
Under the Chips section, from the Property list, select the property that you want to show.
From the Condition list, select if you want the chip to show if the property is true or is false.
In the Text box, type in the text you want to appear on your chip.
From the Color picker, choose the color of your chip.
From the Icon list, type in a description, and from the list of icons, select the one you would like to use. You don't need to use an icon.
See more: